Well, I have to admit, when I did my last post, I was planning on taking the Summer off from writing, so I could spend some quality time with the kids, and enjoy being able to get out and do a few more things after the lock down. I really wasn't planning to take a further 2 months off after that though. September was just a blur, with all of us trying to get back to a normal routine after 6 months of doing very little, we had family issues to deal with and we also had the lounge and sewing room decorated, which meant packing everything away for a week or two. Just like that, we suddenly went from July to mid November - oops! The good news is, I did not stop sewing, no matter how busy or exhausting things were, and I have built up a lovely little pile of quilts in various stages which will be able to go to new homes soon :-)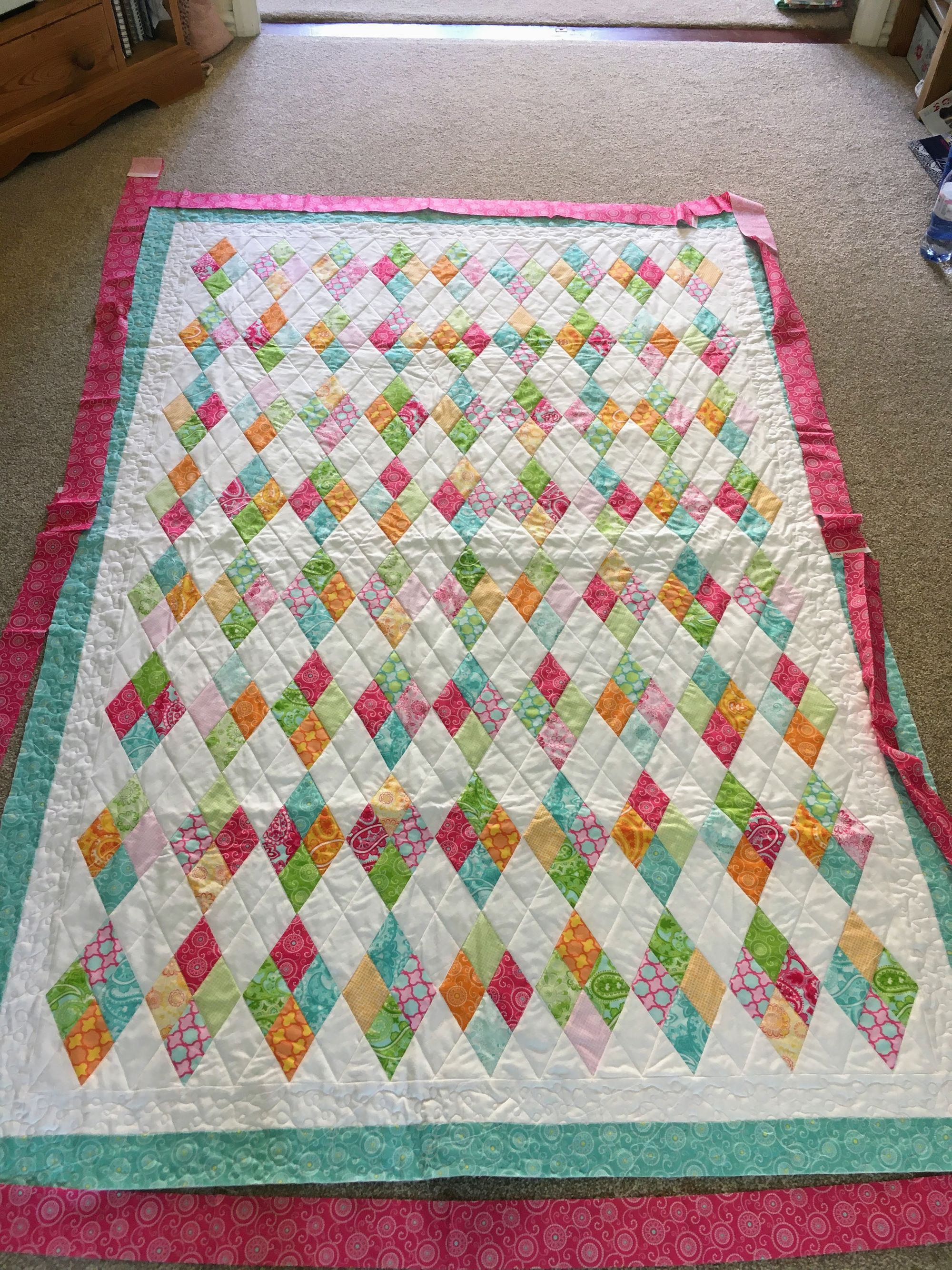 I have pretty much finished the diamond quilt, and the binding is on now, I just have to tie off and bury what feels like thousands of thread ends. Doing the diamond quilting and going with the Argyle look, and then free motioning the borders seemed like a great idea. However, because I didn't go off the edge of the quilt with the line quilting, I've left myself with all that extra (very boring) work. Silly me! I also wish I had a spare bed for all my quilts in progress, as they really should be stored flat so that they don't get those ugly fold lines in them, but again, oh well. I do love the finished result though :-)

I started another quilt one day, when I was in the mood for some impromptu sewing. I just grabbed a few layer cake squares from my stash and made some half square triangles. I was initially thinking of pinwheels, as I do love a pinwheel, but then I had a little play and decided to lay them out in chevrons instead. It's totally random, but I rather like the end result, and it is in the process of being quilted now in straight-ish lines to mirror the chevrons all the way down the quilt. I normally love the doodling freedom of free motion, but actually I am rather enjoying the lines, and as I am not overly worried about them being perfectly spaced or straight, (I'm vaguely following the edge of my walking foot as a guide) I'm having fun, and the texture it gives both looks and feels lovely. Here's the progress below...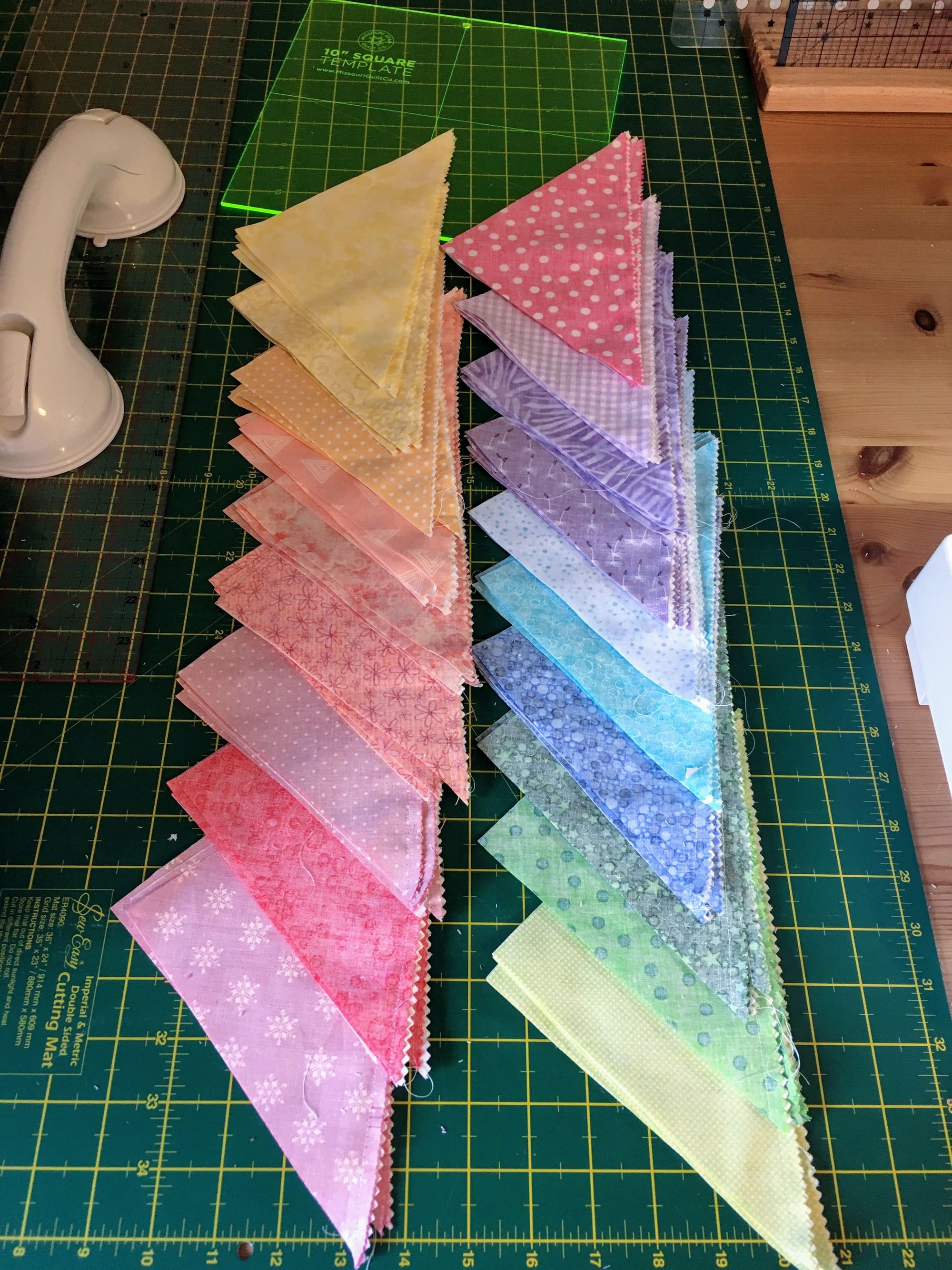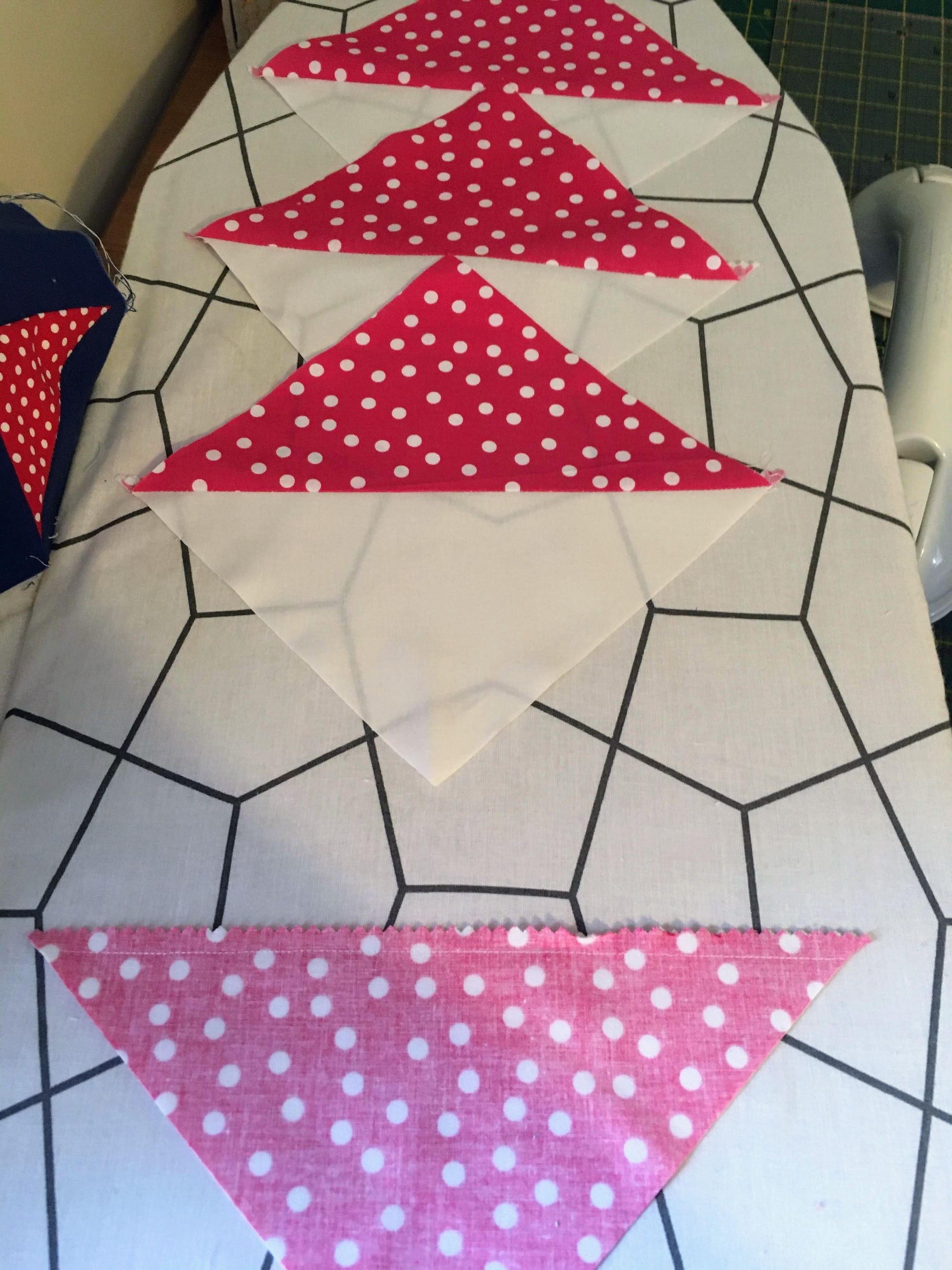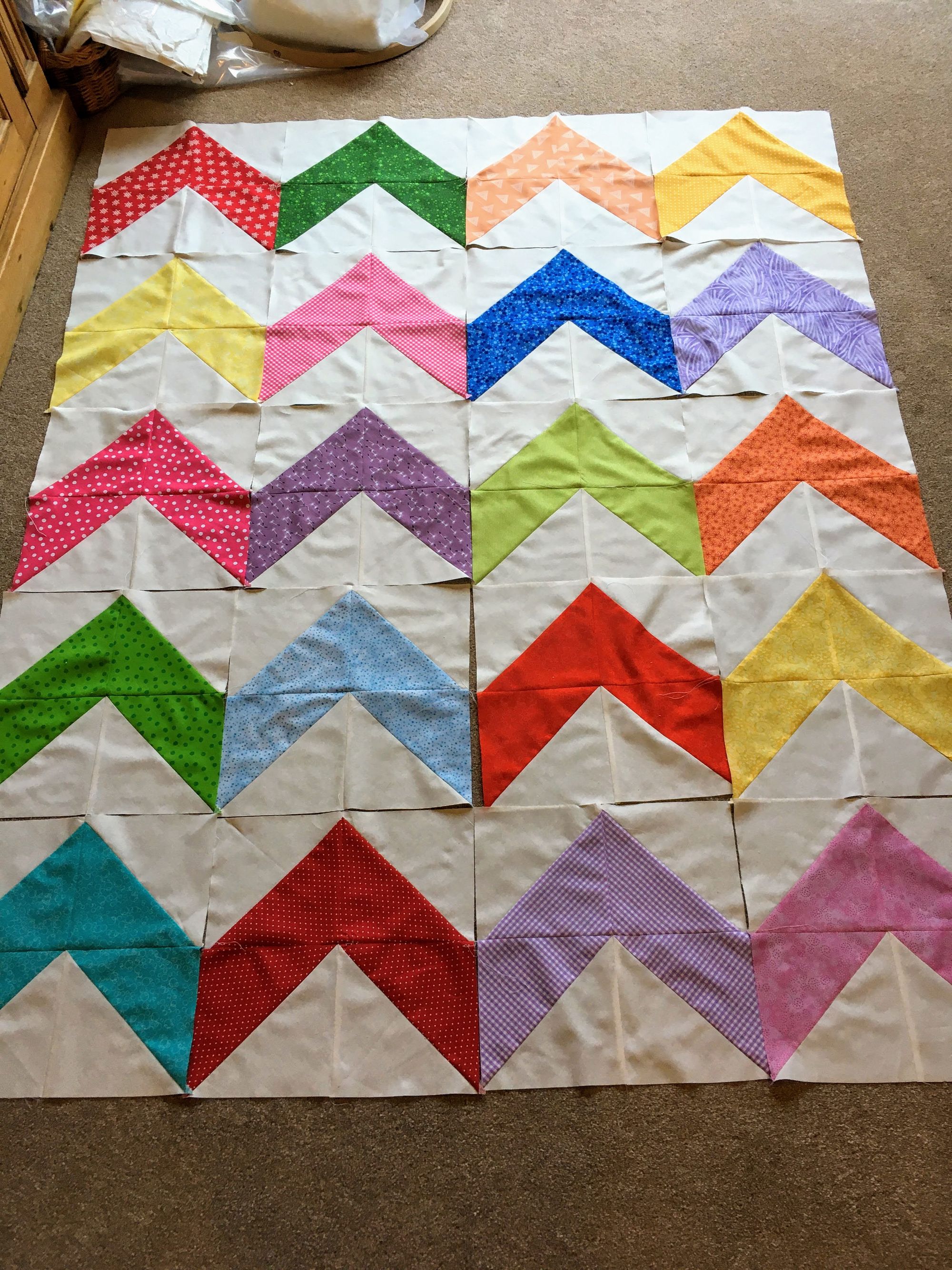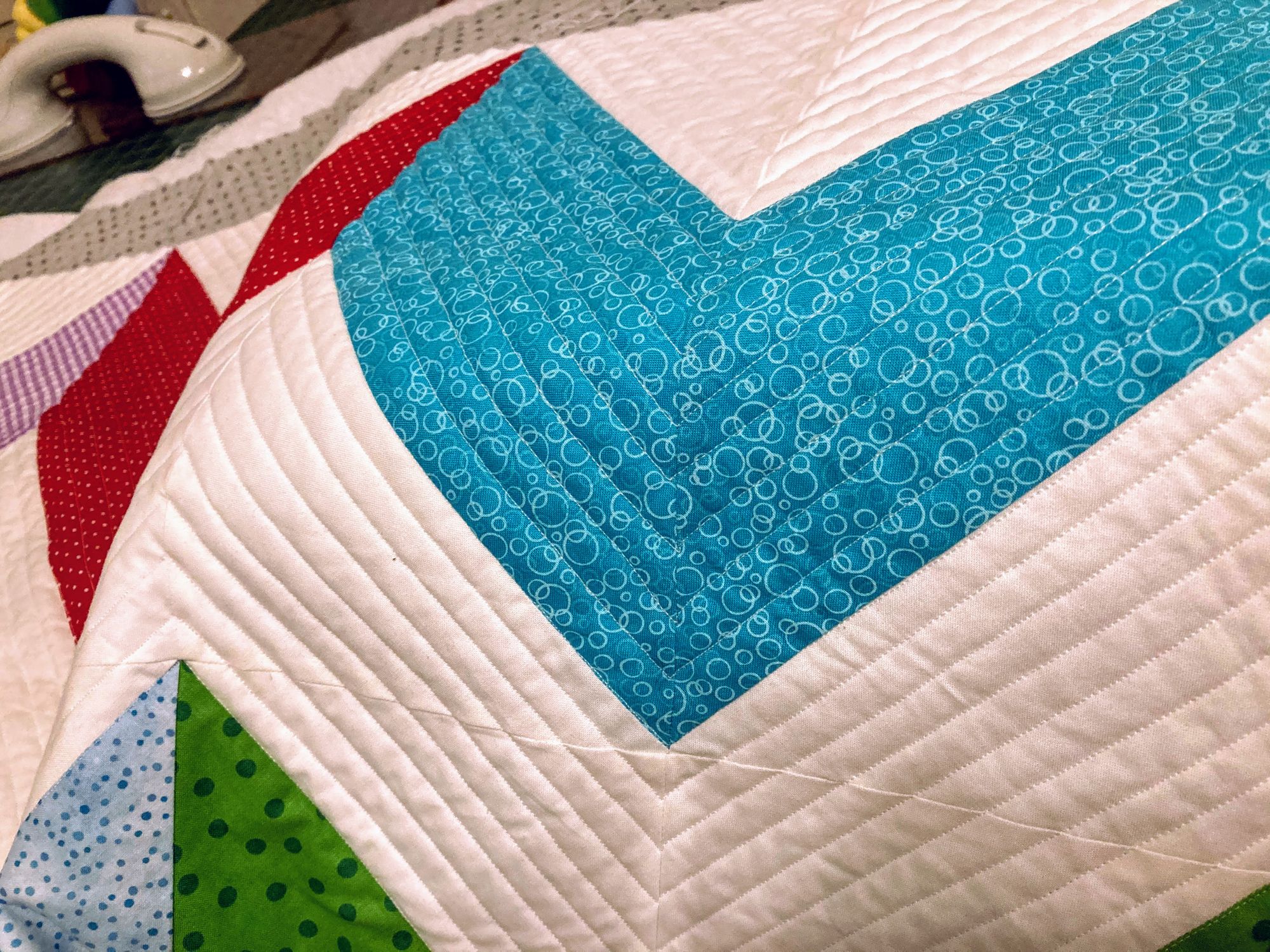 I think that's enough photos for one post, I'll save the rest for another day, but I would just like to point out my shelves in the title photo. These are cheap Ikea cd shelves, but they are perfect for fat quarter storage, and with a couple of minor modifications, the billy bookcase door fits over two as well. My lovely husband installed another couple for me over lock down, as I was having a storage crisis, and I am very pleased :-)